~ ~ ~ ~ ~ ~ ~ ~Sealed~ ~ ~ ~ ~ ~ ~ ~ ~
Type: Katana
Camo: None
Looks:
Much like in the picture, only that there is no guard and the blade itself has a very dark tone.
~ ~ ~ ~ ~ ~ ~ ~ ~Resurreccion~ ~ ~ ~ ~ ~ ~ ~ ~
Stat Increases:
-Attack: 20
-Defense: 30
-Speed: 80 + 10 = 90
-Magic: 70 + 10 = 80
Release Phrase: Stalk the darkness, Antigua Sangre
Representation: Draconic
Element: Darkness
Looks:
Upon activating his Resurrection, two great featherless, skinless wings sprout from Hagutsume's back, as his robe and coat disappear. The wings have a three meter (roughly 10 feet or 118 inch) wide wingspan and his reiatsu forms a 'coat' around it and have a black spike at the tip of the bones, as well as one on the 'hand' joint. A little distance from the edges of the armour, lines of tiny red glowing runes will appear and the armour itself will turn into a very dark gray hue. His cowl remains intact, and his sword turns into a ghostly, sword shaped energy source. Under his armor and mask, Hagutsume will lose his skin, revealing his underlying tissue.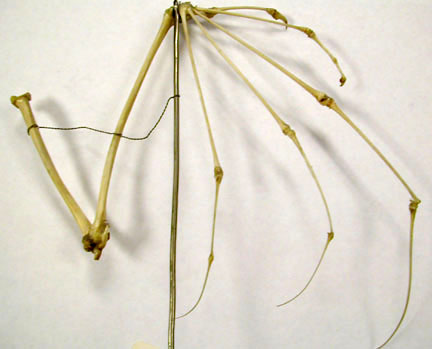 Construction of his 'wings', minus the black spikes.
Special Ability: Once released, Antigua Sangre will turn semi-ethereal, able to block both physical and non-physical attacks but unable to rend flesh. Instead of cutting flesh, it burns little amounts of energy and causes much pain, depended on the 'lethality' of the cut. Where Hagutsume cuts, it leaves a burn mark similar to a normal wound, except it is purely superficial and not lethal. Kido-based attacks can be cut as if they're physical, but stronger attacks are harder to cut or deflect.
Techs:
Techs:
Name: Viento Oscuro
Duration: 2 posts
Cooldown: 5 posts
Description: Hagutsume spreads his wings, faces the target and flaps his wings once, sending a mighty gale, packed with damaging dark energies, towards the target. The gale is strong enough to cause some of the less agile or sure-footed to lose their footing and be, more or less, forced to stand still. The energy will burn when it comes in contact with an object, causing fairly shallow but wide wounds. People with a speed rating of Expert or higher can move unhindered by the gale. If Noche del Abrazo or Viento Oscuro is used, the other cannot be used for the duration of their own cooldown.
Name: Noche del Abrazo
Duration: 1 post
Cooldown: 3 posts
Description: Hagutsume uses his wings to cover his entire body, the spiritual energy that cloaks his wings will function as a barrier. The barrier can easily hold off a level 80 kido spells without breaking, and other non-physical damage of equal level. The wings function like a set of blades, with which Hagutsume can block all but the strongest of melee attacks. If Noche del Abrazo or Viento Oscuro is used, the other cannot be used for the duration of their own cooldown.
Name: Éterea Carga
Duration: 1 post
Cooldown: 5 posts
Description: Hagutsume becomes fully ethereal for a moment, causing all physical attacks to pass straight through him and himself to pass straight through objects. When he's ethereal, he charges at the enemy, passing straight through him, causing no direct damage but an intense feeling of pain and loss of energy, the latter being drained by Hagutsume. The speed and distance of this charge is equal to Hagutsume's sonido.
~ ~ ~ ~ ~ ~ ~ ~ ~Segunda Etapa~ ~ ~ ~ ~ ~ ~ ~ ~
Not yet achieved